What to expect from a professional jewelry appraisal
July 20th, 2014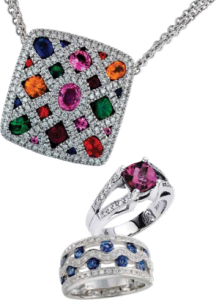 It's wise to get your Jewelry appraised and insured. Here are a few things to look forward to when bringing your jewelry into Mitchum Jewelers for an appraisal:
The jewelry evaluation price is based on the current cost of the replacement parts of your jewelry. If your jewelry is lost or stolen, what will it cost you, the consumer, to duplicate and replace the item?
The appraiser will compare your jewelry to similar pieces as well as utilize professional appraisal equipment to carefully assess the quality of your jewelry. While inspecting your jewelry we will weigh, measure, grade and evaluate each piece to formulate the value.
When the assessment is complete, the jewelry expert will tell you what it would cost if you were to replace the item with the same one from that particular store. Jewelry appraisal is a necessary task if you plan on procuring insurance for your jewelry.
During the assessment portion of the appraisal, the appraiser will first identify the workmanship, materials, and condition of the piece in question. The appraiser will then assign a value to that piece based on those factors as well as current market values.
Bring any related paperwork with you to the appraisal—this includes appraisals previously performed, a bill of sale, warranties, old insurance summaries listing the piece, letters that mention facts on or the history of piece in question, and gemstone certificates that the appraiser can review in order to get the most information as they can for the sake of the fairest possible appraisal.
For expert jewelry appraisal, come to Mitchum Jewelers. We also provide an incredible array of gorgeous engagement and wedding rings as well as fine watches and much more. Please give us a call with any questions you may have at (417) 581-2415. We'll be happy to help you in any way we can.