Financing
FINANCING AT MITCHUM JEWELERS
We have teamed up with Wells Fargo to offer the Wells Fargo Jewelry Advantage® credit card, issued with approved credit by Wells Fargo Bank, N.A.
Wells Fargo Jewelry Advantage® credit card: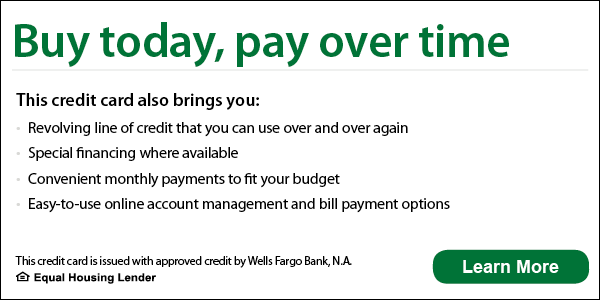 What is Jewelry Financing?
At Mitchum Jewelers, we have many customers who come in daily searching for a treasure that's ideal for their particular needs, ranging from engagement rings to wedding bands to fashion jewelry of all stripes. We understand that it can be a heartache when one of our customers finds the jewelry of their dreams, only to discover it's outside their budget. To circumvent this, we offer financing! Financing is the process by which a jeweler offers their customers an extended plan to pay for their chosen piece of jewelry. This simple concept is useful for customers who are searching for a piece that might be a bit out of their budget.
Why Shop at Mitchum Jewelers?
Mitchum Jewelers has been serving amazing collections of bridal jewelry to our customers since 1965, and because of that, we understand what it is that our customers want: Exceptional jewelry, quality service, and great financing options. We strive to meet all of our customers halfway, helping them to purchase the pieces of their dreams as the first step in a forever relationship. Visiting our Ozark, Missouri showroom, you'll find that we've recently gone through major renovations to make the shopping experience far more comfortable for our customers. If you'd like to see for yourself or you're interested in discussing financing with our professional team, don't hesitate to contact us at 417-581-2415!