Custom Jewelry Design
Are you looking for the perfect piece of jewelry to express exactly what you want it to? Consider a custom design by Mitchum Jewelers. Our award-winning jewelers would be happy to design you a one-of-a-kind piece.
Perhaps you have stones from a sentimental piece of jewelry that you would like to put into a new design?
Or maybe you have a specific idea in mind that you would like to see move from imagination to reality.
Your options are only limited by imagination. You will have input during each step of the process so that we can answer any questions and make sure we're on track to reach your perfect vision. We take great pride in our work and we believe that every piece we design reflects our experience and craftsmanship. Let us help you design a piece that will be cherished for years to come.
For examples of our work view our custom jewelry design gallery for ideas or for fun!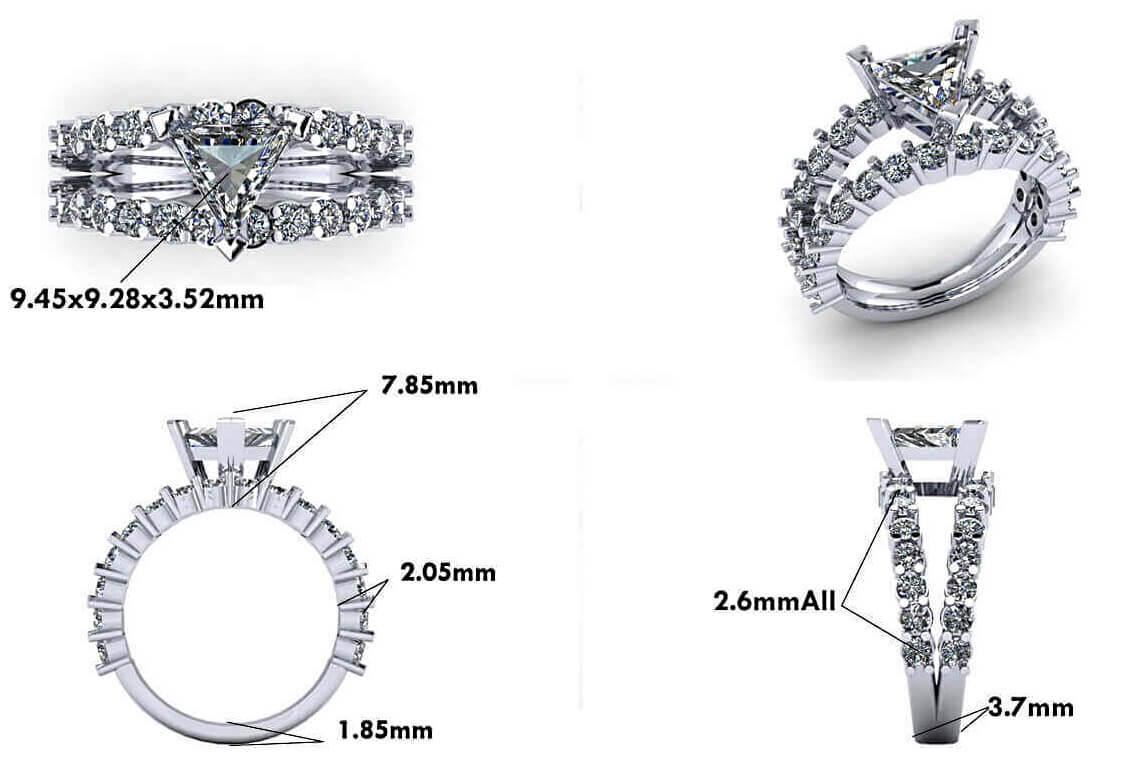 Custom Jewelry Design at Mitchum Jewelers in Ozark
We here at Mitchum Jewelers love designer jewelry. When you visit our showroom, you'll find that every corner of the store is filled with glittering pieces put together by inventive studios that use the highest-quality materials. However, we know that many of our customers have dreams of custom jewelry design that they'd adore bringing into the world. If you're one of those individuals, you're in luck! Our team here at Mitchum Jewelers is always thrilled to sit down with a customer to help them design a piece they can treasure for generations to come. But what can you expect with the custom design process?
Cutting-Edge Custom Jewelry Design
It's no exaggeration to say that at Mitchum Jewelers, your custom jewelry options are only limited by your imagination! Our award-winning jewelers are experts at two distinct pillars of custom design. First, if you'd like seeing an older piece or elements from it repurposed or refurbished, our team is more than capable of assisting! For example, if Grandma left a vintage piece of jewelry that's broken, you can have the diamonds or gems from the piece taken and used in a new piece of jewelry—in an engagement ring, or a new necklace, or anything! Alternatively, we can take filigrees or features from an older piece to make a new style of jewelry.
If you've had a dream of seeing a piece of bridal or fashion jewelry spun from whole cloth, Mitchum Jewelers is ready to assist too. A design expert from our team will sit down to discuss your vision, which will then be put into a CAD program to have it sculpted down to the last millimeter. You'll be involved in every step of the process, and we always seek your approval before moving to the next step of the design process. Finally, we'll source the materials to produce the piece of jewelry that makes your dreams come true!
Why Shop at Mitchum Jewelers?
In 1965, Mitchum Jewelers opened its doors for the first time, and since then, we've nurtured a passion for unique jewelry. Often, that passion comes through in the designer collections of jewelry we showcase, but in many situations, it's best expressed as custom jewelry. If you've got a vision of a revelation in jewelry design or you're looking to repurpose a piece of vintage jewelry, we're here to help you. If you'd like to discuss custom design or any of our other services, don't hesitate to contact Mitchum Jewelers today. You can reach our Ozark, Missouri showroom today at 417-581-2415!