Wedding bands: go beyond commitment?communicate your love with customization
August 15th, 2014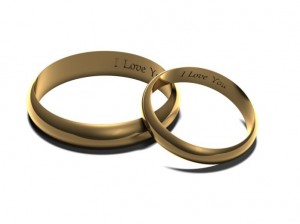 Every wedding is special in its own way—many couples remember their wedding as the happiest day of their lives. However, you can make your big day even more special by customizing your wedding bands to show just how much your special someone means to you. By customizing, you can make sure your wedding bands fit the two of you perfectly.
It may be a little overwhelming to consider all the ways you can customize your wedding bands. To help, there are a few questions to reflect upon before settling on a custom plan for rings that you and your intended wear for the rest of your lives. Think about the answers to the following questions before deciding how to customize your bridal set:
What is more important, practicality or appearance? There is no wrong answer here—if you place more value on the appearance of your jewelry than on how practical it is, you will want to keep that in mind. Many men and women today prefer a little flash with their wedding jewelry, while others want to make sure their rings will be comfortable and long-lasting.
Do I want to design a traditional ring or a unique ring? If your fiancé likes to express their personality with jewelry, there's no reason you can't custom-make a ring that is perfectly suited for them. Conversely, if your intended has always dreamed of having a classic-style ring on their finger, go ahead and fulfill their dreams! Wedding rings are meant to be worn every day, so make sure you get one that fits your fiancé's style.
Does this ring suit my fiancé's personality? Think deeply about the recipient of the ring, and let your understanding of them guide you in your design. A wedding ring is symbolic of a deep bond between you and your mate, so make sure it is one you will both cherish forever. love.
Of course, an engraved ring is a timeless and beautiful way to show your appreciation for your partner. However, many people have a hard time deciding on a message. If you're overwhelmed by the choices, consider the following to help come up with just the right engraved message: a beautiful quote, something simple and meaningful to you and your mate, a memorable date. Original and heartfelt words do wonders to make people feel treasured. A short, personalized message letting your intended know how much they mean to you is the perfect way to make a wedding ring extra-special.