Is there more to selecting an engagement ring than the 4 c?s?
July 4th, 2014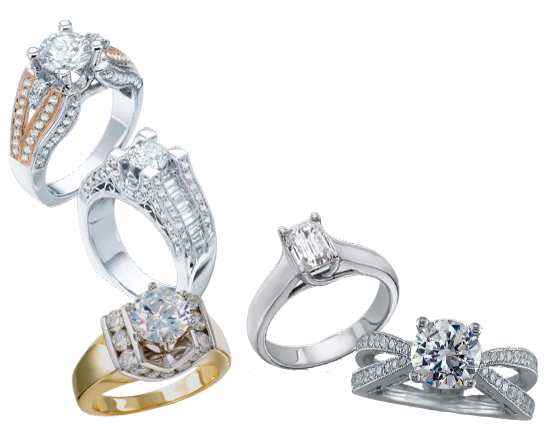 When it comes to choosing the perfect engagement ring most people tend to think of the 4 C's. Though these are good principles to start with, there is much more to choosing the right ring than these old standbys. It is important that you first understand what the 4 C's are before considering the most important factor when choosing your perfect engagement ring.
The first C is carat. This means the overall size of the diamond that you want to purchase. While size does matter, both with overall effect and with price, it is not everything. Smaller stones can be made to look larger by the setting in which they are placed and even with accent stones that cost far less than a large center stone. If you cannot afford to buy a huge ring that is 5 carats, you can buy a smaller stone with beautiful accents and a great setting and still have a great overall effect.
The second C is of course clarity, this means how clear and vibrant the stone is. Again, this is important but it is not everything. Very clear stones cost more and those that are a bit cloudy can save you tons. If you buy a stone that is not perfectly clear you can often afford to buy a bigger stone which will garner a bigger overall effect.
The third C is cut. Again, cut is everything and is important and it can make smaller stones or imperfect stones seem much more appealing. Cut can help make stones that may not be all that clear seem brighter and ultimately more desirable.
The last C is color, which refers to the color of the stone – whether it is vibrant, white and clear, or cloudy and/or slightly yellow, etc. Color is a far bigger factor than those that have already been mentioned but again it is not everything. A stone that is slightly off color can be made to look far whiter when set in a silver or platinum band. Things like setting, ring style, and accent stones can make a huge difference and can help make stones that may not be very appealing far prettier and far more desirable overall which is the key when it comes to selecting a stone.
Though the 4 C's are important, they are not the only things to consider. For additional guidance on getting the most beautiful ring possible for your budget, contact Mitchum Jewelers. They will help you choose which aspects are the most important for the look you want.