Choosing the right rock to rock her world
August 18th, 2014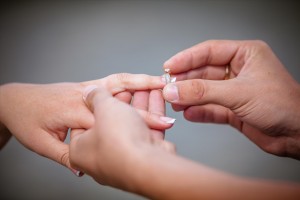 When you decide that you want to ask your girlfriend to marry you, you want to make sure everything is just right. You know you want the proposal to sweep her off her feet and have her totally surprised. The ring definitely plays an important role, as well. Choosing the right engagement ring is a big decision. You want to pick out just the right ring that suits what she means to you and something that she will cherish as a symbol of your love for her forever.
Where to Shop for an Engagement Ring
There are many places that you can choose from to shop for an engagement ring. You could visit a jewelry mart where many of the rings are deeply discounted, shop online, go to a department store or simply visit a jewelry store. A jewelry store will usually have a very nice selection of rings and will often custom-make a setting for you.
Regardless of whether you have a small budget or money is no object, a jewelry store will have something in the price range you have in mind. Most jewelers will offer financing, so if you want to purchase something that is a bit out of your budget you will still be able to get it. They also have an expert team of sales people who can make recommendations to fit your needs.
Deciding What Type of Ring to Purchase
Deciding on what type of ring you want to buy is also a big decision. What type metal do you want? Yellow gold, white gold, platinum, titanium or tungsten? How many diamonds do you want the ring to have? Do you want a solitaire diamond ring, one that has a large stone in the middle and smaller stones surrounding it or a cluster of small stones all over the ring?
There are many shapes to choose from for the stones – princess, cushion cut, round cut, oval, pear-shaped and more. The quality of the diamond is a big factor that will determine the overall price range as well. Colored Diamonds for example: Yellow, Champagne, Black, Pink, Blue have become very popular.
It doesn't matter how simple or how extravagant you want the ring to be because there is no limit to what you can create with a professional jeweler. All you have to do is let them know what it is that you desire and they can get to work showing you what they have to offer or creating a custom ring for you. Take the time to discover what the world of jewelry has in store for you to make your big day that much more memorable.